Kareena Kapoor, who made her debut seven years before Deepika Padukone, said that she doesn't consider Deepika as her competition.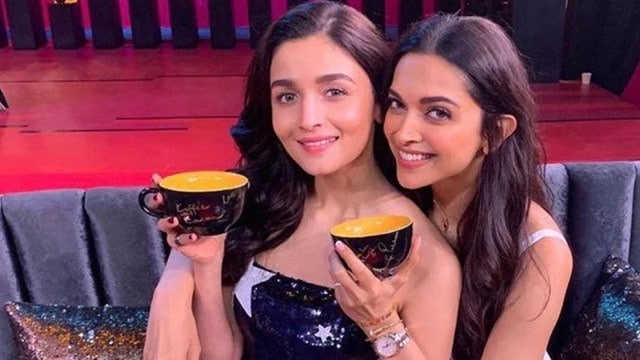 Listen to this article
Kareena Kapoor and Alia Bhatt took the couch on this week's Koffee with Karan and during the rapid fire segment, which hasn't been as fiery as it used to be in the previous seasons, Karan managed to get some reaction out of Kareena when he asked if she thought of Deepika Padukone as her competition.
During the rapid fire segment, when Karan asked Kareena about Deepika, the actor was visibly shocked and checked if this question was even meant for her. "Me? No. I think this is Alia's question for her rapid fire, not for me," she said and then asked out loud, "Why am I being asked this question?" Karan and Alia could not hold back their laughter.
When Kareena pointed towards Alia, the Gangubai Kathiawadi actor said, "Please… not at all. Why would she be? She's (Deepika) my senior. There's no competition." During Alia's rapid fire segment, she complimented Deepika's on-screen presence and said, "DP's just… like her presence… when she comes on screen you can't help but look at her."
When Karan asked Kareena if she felt Alia Bhatt was a better actor than her or if her "body of work make you feel like 'should have been mine'," Bebo immediately jumped in and said, "No. I can't". She went on to praise Alia's acting skills. "I do feel like she is the best actress that has happened in the last decade," she said. Karan tried to instigate another reaction from Kareena and added "After you?" at the end of her sentence. To this, Kareena responded, "You said it. I didn't. I genuinely feel like she is unbelievable on screen."
Alia has been a vocal admirer of Kareena Kapoor from the start of her career and Kareena too has openly expressed her admiration for Alia's work. The two are also related now as Alia Bhatt is married to Ranbir Kapoor, who is the son of Kareena's late paternal uncle Rishi Kapoor. Kareena and Ranbir have previously appeared together on an earlier season of Koffee with Karan.