Shah Rukh Khan in an old video is seen recalling the time when he took Salman Khan's marriage proposal to an actress' house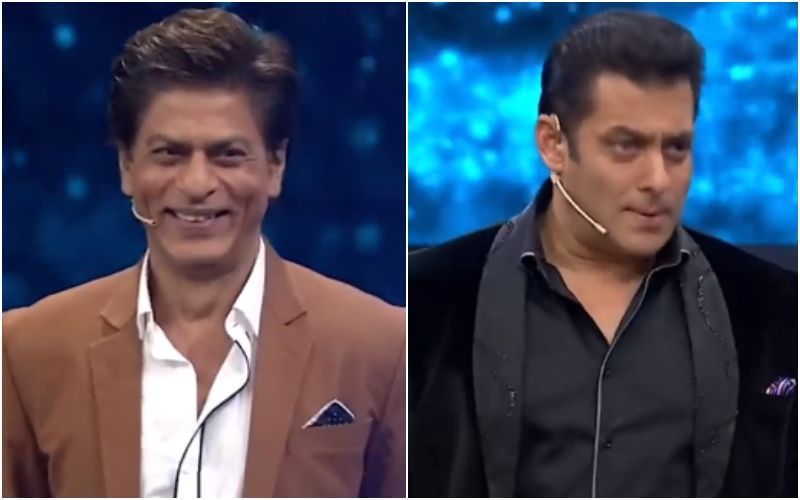 The unbreakable bond between Shah Rukh Khan and Salman Khan is cherished by all their fans. Having been in the industry for such a long time, the duo share a brotherly bond no matter how many speculations regarding their 'fight' a gfew years back go viral on the internet. Now another glimpse of their close bond has gone viral, where SRK was seen recalling the time he had taken his Karan Arjun co-star's marriage proposal to an actress' house.
In the video posted on the subreddit Bolly Blinds N Gossip, Shah Rukh Khan and Rani Mukerjee can be seen gracing the stage of Dus Ka Dum, a game show which was hosted by Salman Khan. In the old video it was seen how the Pathaan actor was recalling the time when he had taken his good friend's marriage proposal to an actress' house to her parents, however it did not turn fruitful. SRK goes on to jokingly add that it was because of the 57-year-old's behaviour. Rani interrupts them and asks if they are allowed to reveal the name, to which Salman refuses which make all there actors burt out laughing.
Watch the video here:
SRK once tried to get Salman to marry someone
byu/rn3122 inBollyBlindsNGossip
Netizens were quick to take to the comment section of the post to speculate who the actress might have been. One wrote, "It was Aishwarya Rai, As per media that time, SRK and Gauri went to Aishwarya house with Salman's marriage proposal which was rejected by her parents." Another wrote, "It is Juhi not aishwarya otherwise Rani wouldn't say about telling the person's name." Other one wrote, "SRK blushing with Salman laughing so much makes me really curious to know what actually happened lmao." One even commented, "My question is if he actually went there with a marriage proposal, why would Rani even suggest revealing the details on the show?"
On the work front, Salman Khan will be next seen in Tiger 3 and Shah Rukh Khan is awaiting the release of his film Dunki. It is being heavily reported that the the latter will be having a cameo in the spy-thriller which co-stars Katrina Kaif and Emraan Hashmi. The two stars will also be reportedly reuniting for a two-hero movie Tiger vs Pathaan.