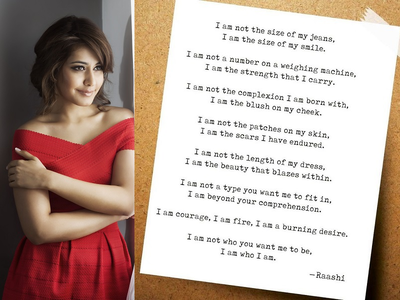 'I am not the size of my jeans. I am the size of my smile…I am not who you want me to be. I am who I am.' With these lines, Raashi Khanna ended her poem and set the tone for a new dialogue on beauty this Women's Day. In a chat with Hyderabad Times, the actress shares that is her personal struggle with beauty stereotypes that inspired this poem. "Everyone is beautiful. No conditions apply," she says.
I had written this poem two years ago. I've always been a writer but it was a very personal thing; it was only for my eyes. But my decision to put this particular poem out there, online, was because I felt it was very relevant. When it comes to the way women's bodies are scrutinised, there is no winning. So there is this grave need for us to understand that there cannot be a set beauty standard. What seems like beauty to you might not be beauty to me. A body that is appealing to you might not be appealing to me. it is ridiculous to try and achieve a standard. There is only one sane way to set a standard — understanding that there is only one person you have to look beautiful for, and that is, yourself.
Before I lost weight, people used to tell me, "You should knock off some kilos." when I did, I have been told, "Oh, you looked better before". I figured that people will always have opinions. When you break out of the idea that their opinion matters, that's when a revolution begins. The day you start loving yourself you will stop feeling the pressure to look a certain way. I lost weight not because of pressure, but because I wanted to. I wanted to be healthier and fitter. I've never gone on a crash diet. I've never wanted to be size zero. I couldn't be size zero, even if I wanted to! I am not built for that and I have no qualms about it.
Just be the best version of you
It took me a few years to realise that we as film stars have a lot of impact on youngsters. For a very long time, I just did my work — I went to the set, delivered my dialogues and went back home. But then one day, I meet these young girls who looked up to me, that's when it hit me. I realised that actors and actresses have a great influence these kids. So now, I consciously make sure I am sending the right message across. I just want all the young girls out there to know one thing — You just have to be the best version of yourself. If you want to make something better about yourself; if you want to lose weight go for it — but do it the right way. Do it because you want to, not because someone thinks that you'd look better that way.
Women are inherently strong, they can fight anything
I am fortunate to have had a wonderful family and good schooling, which encouraged me to be me. Despite all the standards that are set for me by showbiz, I am comfortable in my own skin. Having said that, I understand that young women are constantly bombarded with the idea of what is beautiful and what isn't. It takes strength to break out of that. But, women are inherently strong, they can battle against all the odds and all those ridiculous standards set for them by others. So I want to tell the young girls out there this: Don't succumb to the pressure, just look inside of you and you will find the strength you need to break free. Stop hating yourself and finding faults in yourself. Most importantly, don't compare yourself to anyone. Just be the best you can be and finally, love yourself unconditionally.