Rashmika Mandanna, one of the most gorgeous actresses in the industry, set the internet ablaze with pictures of herself in an elegant saree. Why don't we take a closer look at her outfit?
Rashmika Mandanna shows how to elevate sheer black saree with a statement necklace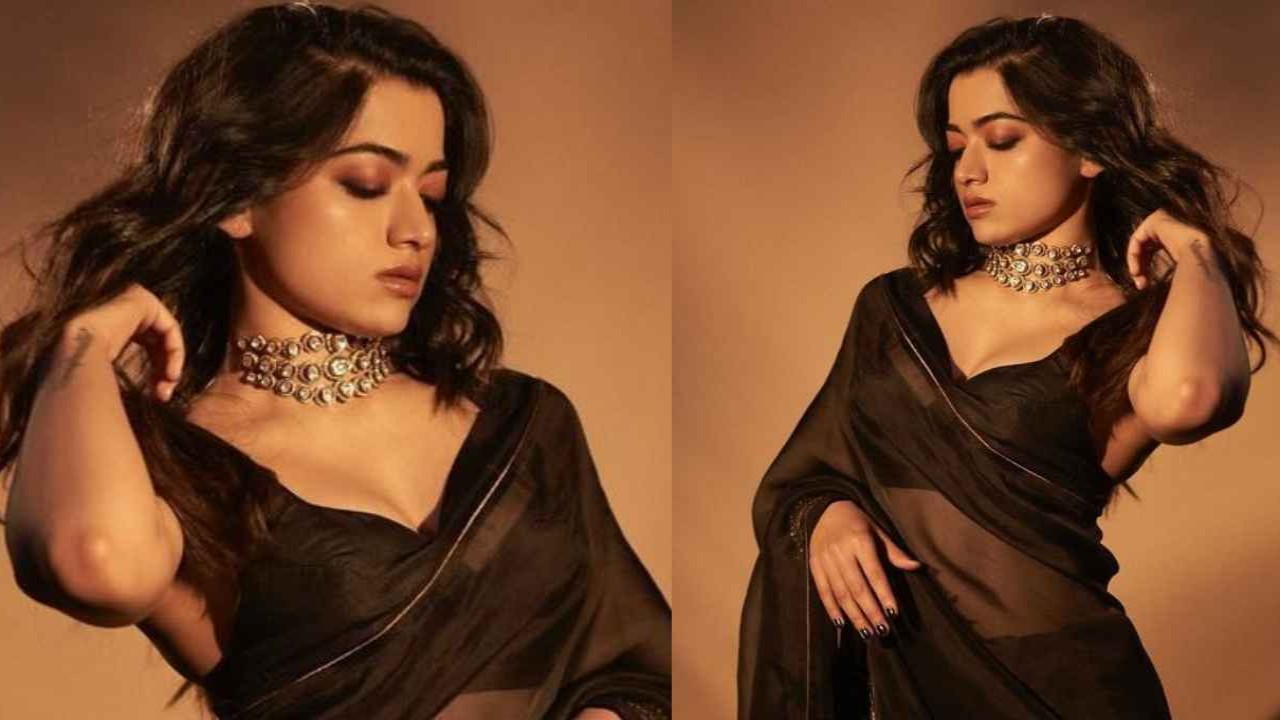 Rashmika Mandanna shows how to elevate sheer black saree with a statement necklace
Rashmika Mandanna is celebrated for her impeccable sense of style, pure talent, and of course, her beauty, and oh-so-pretty smile. The gorgeous Animal actress recently captivated the online realm with an enchanting display of elegance in a sheer black saree. The actress, renowned for her roles in Pushpa: The Rise – Part 1 and Pushpa 2: The Rule, effortlessly transformed a seemingly simple attire into a fashion statement, leaving us awestruck.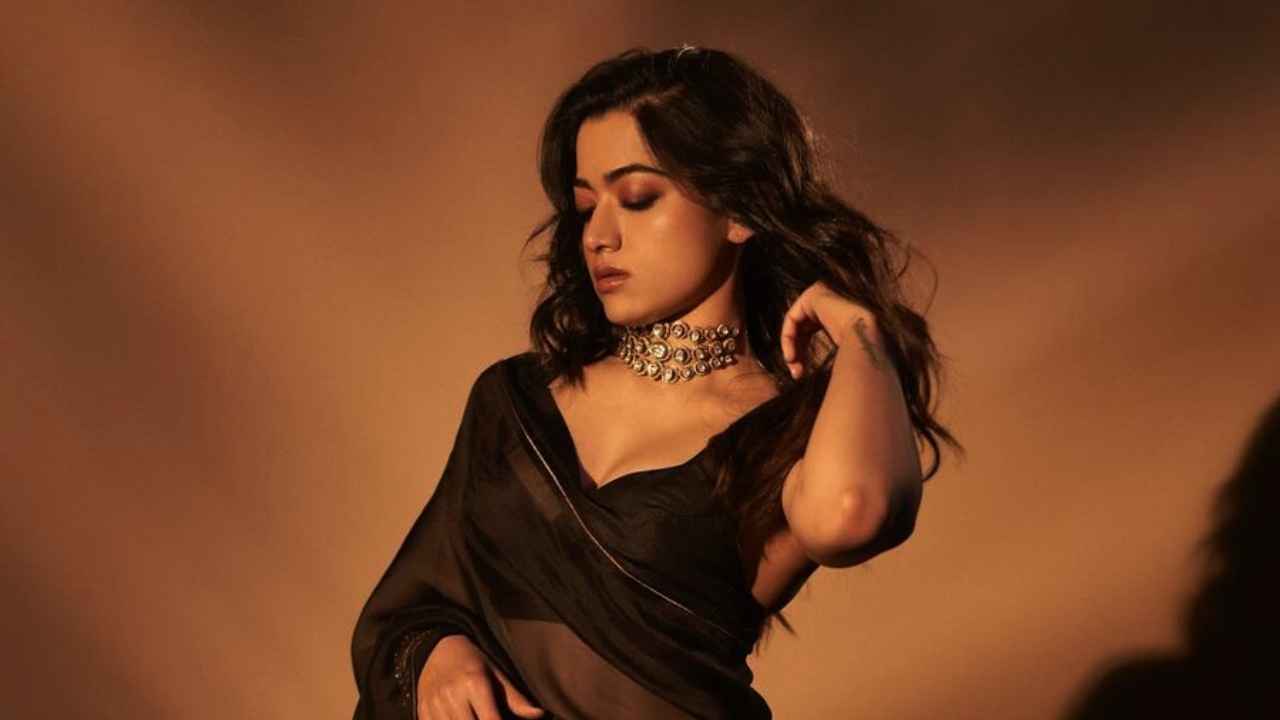 Let's delve into the intricacies of Rashmika Mandanna's super chic and classy all-black ensemble that left the internet in awe and find out exactly how the talented diva was able to make it happen.
Rashmika Mandanna looked glamorous in an elegant black saree
The immensely talented Pushpa: The Rise – Part 1 actress posted pictures wearing a sheer black saree on Instagram. This classy sheer saree was literally plain with darker edges and yet, somehow, the natural confidence and elegance of the beautiful Varisu actress made it work. She paired the elegant black piece with a matching crop-top-like black blouse with wide straps and a deep, plunging neckline to add some modernity and sultriness to the gorgeous diva's ensemble. The well-draped saree had beautifully created pleats, that rested well on the diva's silhouette, accentuating it and helping her flaunt her well-toned figure with true confidence. The diva also completed her outfit with matching black heels to give it that harmonious appeal.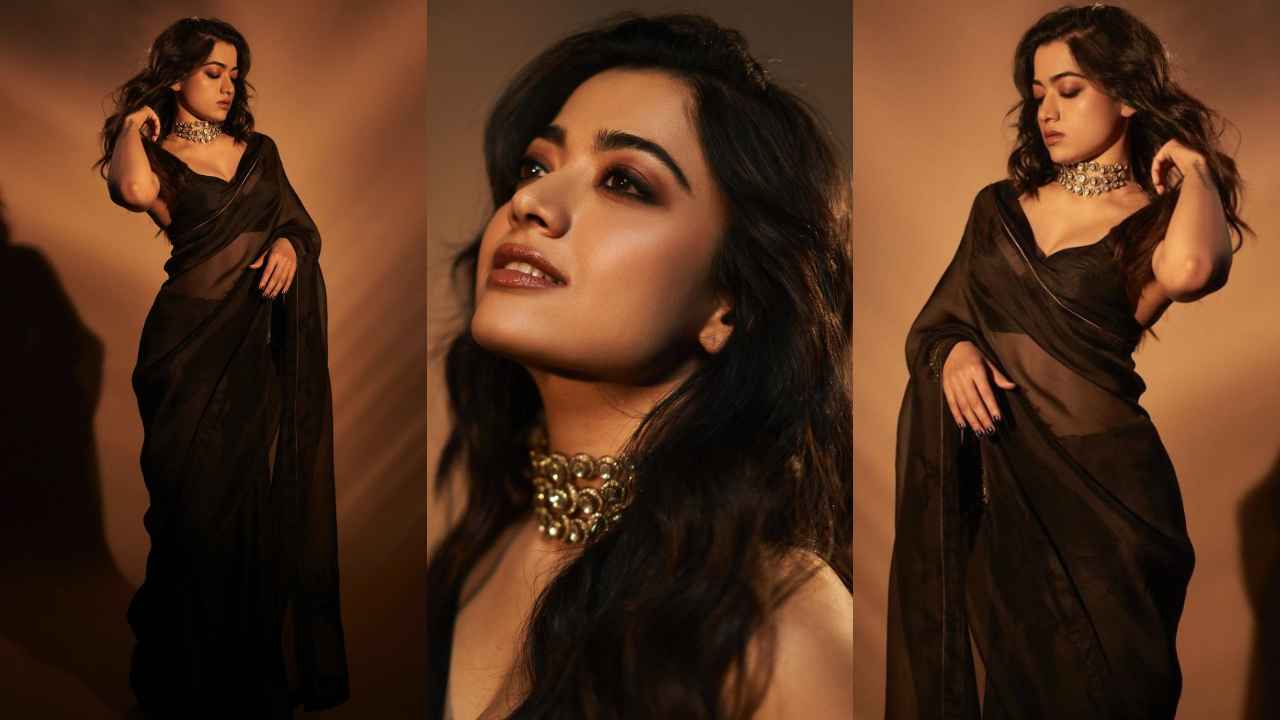 The talented Pushpa 2: The Rule actress further chose to make the wise decision to add statement accessories to her look to be able to show us how to elevate timeless plain sheer sarees with some much-needed pizzazz and bling factor. With this goal in mind, the gorgeous Aadavallu Meeku Johaarlu actress chose to add a triple-layered diamond-encrusted gold necklace to make sure that her ensemble gets the shine and attention that it deserves. She further added matching traditional kadha bangles to her extravagant ensemble, making us literally fall in love with her fashion-forward choices. To say that we're obsessed with the diva's sense of style, would legit be a total understatement.
Rashmika Mandanna's hair and beauty game was also pure perfection
The Mission Majnu actress went on to ace her hair and beauty game with sheer confidence, as well. The Dear Comrade actress chose to leave her hair open and style her dark tresses into loose waves that beautifully cascaded down her back and perfectly framed her face. The Sita Ramam actress' oh-so-glam makeup look, with dramatic brown shimmery eyeshadow, black eyeliner and kajal, mascara-laden eyelashes, rosy blush-laden cheeks, highlighter at all the right places, and of course, the prettiest shade of glossy nude lipstick, not only complemented but also elevated her all-black ensemble with ease.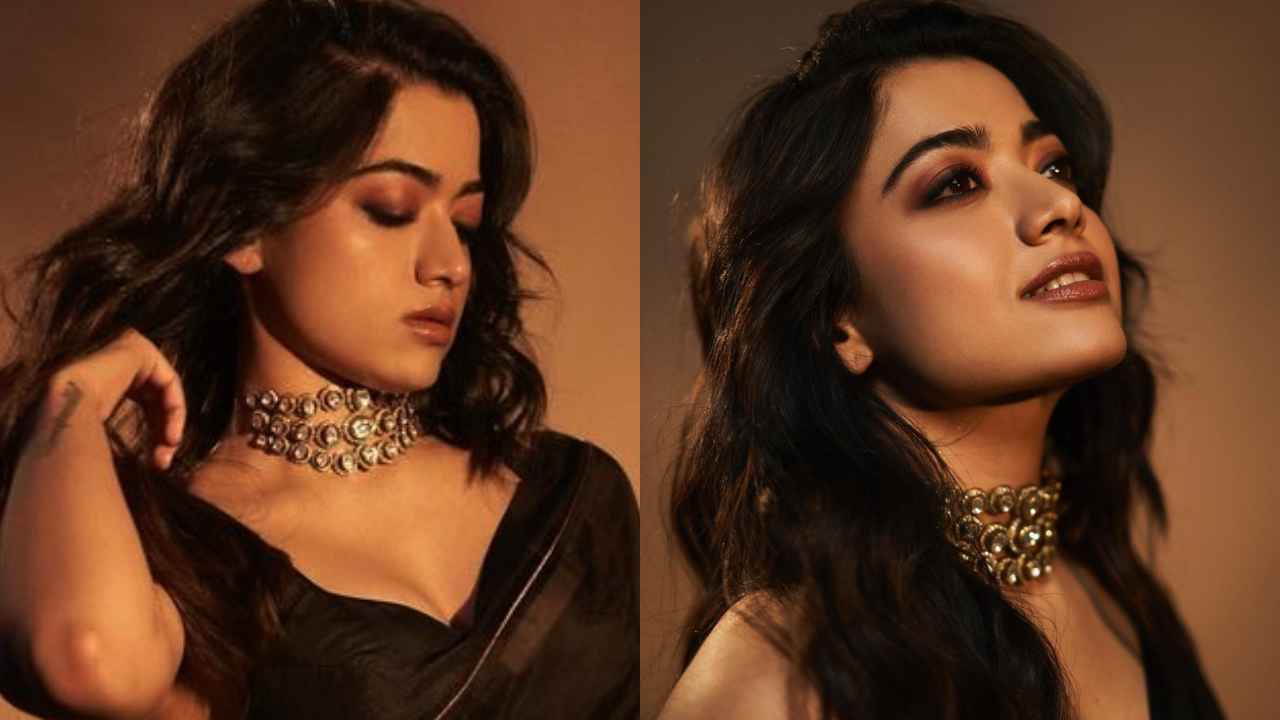 It's quite safe to say that Rashmika Mandanna's recent appearance in this classy black saree not only showcased her innate grace but also exemplified her ability to infuse contemporary allure into traditional attire. This is a true testament to the Goodbye actress' sharp fashion sense, don't you agree? What did you think of her classy outfit? Please go ahead and share your thoughts with us.