Anushka Sharma was greeted by Sachin Tendulkar in the stands as her husband Virat Kohli made his 50th ODI century.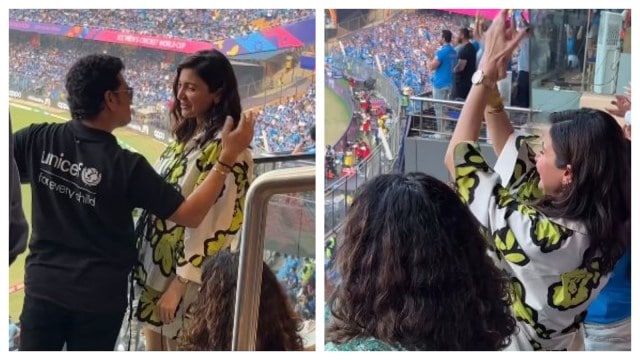 Sachin Tendulkar congratulated Anushka Sharma after Virat Kohli's50th century. (Photo: Instagram/taneja.gaurav)
Actor Anushka Sharma and her cricketer husband Virat Kohli's adorable exchanges during the India vs New Zealand World Cup semi final match on Sunday was seen and loved by their fans. However, in an interesting behind-the-scenes moment, Virat's record breaking 50th ODI century was followed by a pleasant exchange between Anushka and the legendary cricketer Sachin Tendulkar.
In a video uploaded by social media influencer Gaurav Taneja, the iconic moment when Virat broke Sachin's record was captured from the same box where Anushka and Sachin were sitting. The video showed Virat bowing down to Sachin, and Anushka rising to her feet and blowing kisses in his direction. Then, in the stands, Sachin is seen talking to Anushka as he congratulated her for Virat's memorable innings, and the actor says, "Thank you so much."
Check out the video of Sachin Tendulkar congratulating Anushka –
India has entered the World Cup finals after beating New Zealand at Mumbai's Wankhade stadium. In addition to Virat's record knock, Mohammed Shami took seven wickets. Also notable were appearances by football legend David Beckham and actors Rajinikanth and Ranbir Kapoor. Speaking on BCCI TV, Beckham said, "I think it's nice to step into a stadium and get goosebumps, and I felt that as soon as I walked into this stadium. There's something about it, maybe it was because I was walking with Sachin, and maybe that made it feel even more special. But you feel the energy within the stadium even when there weren't that many people at the start."
He also shared pictures from the Wankhade stadium and wrote about the electricity that he felt: "What an incredible atmosphere… Thanks to @unicef and @sachintendulkar for making me so welcome at the Cricket World Cup These fans have such amazing energy #CWC23."
India will play with Australia in the final, scheduled to take place on Sunday.