Vishnu Vishal shared a picture with Aamir Khan and Kamal Haasan which has landed him in trouble.
Actor Vishnu Vishal was part of Kamal Haasan's birthday bash, which was attended by Bollywood superstar Aamir Khan. As Vishnu met up with the two legends, he took to X (formerly Twitter) to share a picture with them. However, his post has rubbed off Rajinikanth fans in a wrong way as Vishnu called Kamal and Aamir 'Superstars' in the tweet.
Vishnu first wrote, "Superstars are superstars for a reason." However, for Rajinikanth fans, the title only belongs to him. After several trolls attacked him online, Vishnu had to edit the caption. He re-edited the caption to: 'A favourite pic with all favourites. Stars are stars for a reason.'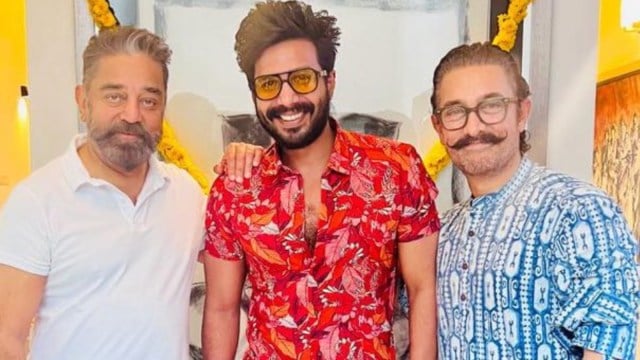 Later, he explained why he had to edit the post. "Superstars are superstars for a reason…. Just caz i edited my tweet doesn make me weak… I love everyone who is a superstar… So all of u tryin to spread negativity on my timeline just buzz off…. There will be only one SUPERSTAR title for us…but superstars are everyone who have achieved way beyond my respect. Love all Spread love Not hatred…. God bless (sic)," Vishnu wrote.
Recently, Vijay spoke at Leo success meet addressing the long-standing issue surrounding the title. He said that there is only one 'Superstar' in Tamil cinema, and it is Rajinikanth. For a while now, Vijay was called as the next superstar of the industry, but he tried to end the debate with his speech.
Meanwhile, Vishnu Vishal is looking forward to the release of his film Lal Salaam, which has Rajinikanth in an extended cameo. The film is directed by Aishwarya Rajinikanth and stars Vikranth.