Aishwary Rai Bachchan and Aaradhya were not present at the Bachchan family Diwali puja this year.
Aishwarya Rai Bachchan was already a household name in Bollywood when she married into one of the most famous families in the business: the Bachchans. When Aishwarya Rai Bachchan's fame met the weight of the Bachchan family name, it meant only one thing: constant scrutiny of everything they do. This Diwali, Aishwarya Rai Bachchan left the rumor mill churning once more after she decided to skip the Bachchan family puja. Here is everything we know about why Aishwarya was missing from the family veneration.

Aishwarya Rai Bachchan, accompanied by her daughter Aaradhya Bachchan, was seen departing from Mumbai on Diwali. The actress was spotted at the Mumbai airport on Sunday morning, just hours before the Bachchan family's Diwali celebration. The destination of their travel remains undisclosed. In a video shared by a paparazzo, Aishwarya wore a black sweatshirt and pants, while Aaradhya was dressed in red. Although they didn't pose for the cameras, they acknowledged the paparazzi before entering the airport.
Later in the day, Amitabh Bachchan and Shweta Bachchan were spotted together outside the Bachchan family home. In a video shared by a paparazzo, Amitabh and Shweta had a tilak on their foreheads. Amitabh wore an all-white ensemble, while Shweta was in a blue outfit. They didn't interact with the media as they entered the Bachchan house.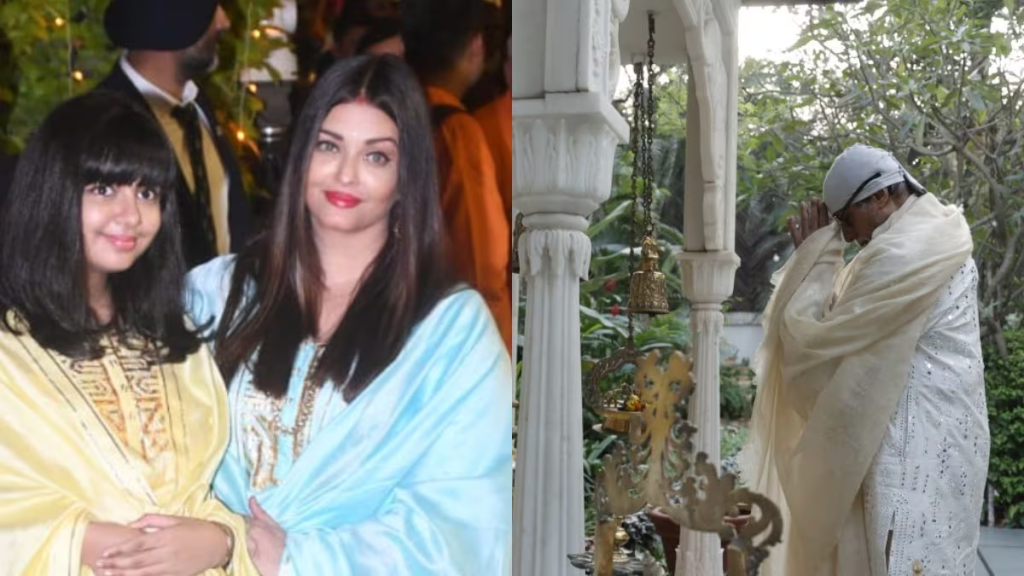 For the unversed, rumors have been circulating about alleged feuds within the family after Ash's fans were left angry with Shweta Bachchan, who skipped her mention in the post she made for Navya Nanda walking the ramp for PFW 2023. Aishwarya was also part of the same show.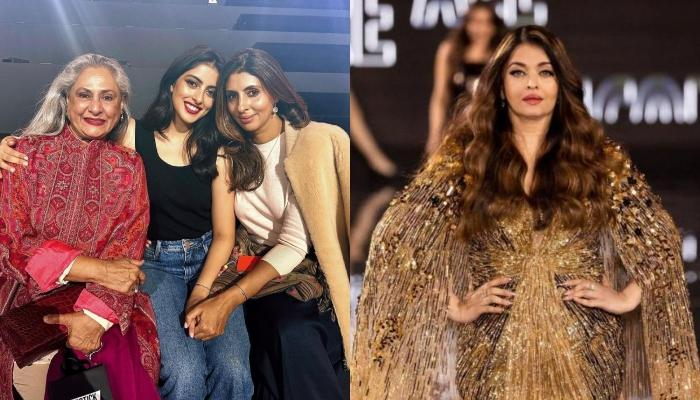 Despite it being Diwali, Amitabh met fans gathered outside his Mumbai home. He shared photos from the meet-and-greet on his blog, where he was seen wearing a white ensemble. Despite the festival, a large crowd gathered outside his house to catch a glimpse of the actor, and he reciprocated their love with folded hands and a warm smile.

The Bachchan family members have been occupied with various commitments. While Amitabh is engrossed in shooting Thalaivar 170 with Rajinikath, Aishwarya Rai Bachchan is taking a break after Ponniyin Selvan 2. Shweta is preparing for her son Agastya Nanda's debut with The Archies, and Abhishek Bachchan is immersed in the shoot schedule of his upcoming project. He was not only absent during Diwali but also missed Amitabh's birthday last month.